Witness to a Horse/Breeder Reuniting on the Auction Floor After 20 Years
Witness to a Horse/Breeder Reuniting on the Auction Floor After 20 Years
The day before Valentine's Day 2014, Bridgeville native, Jen Ray Urksa, made her regular trip to the Pennsylvania Livestock Auction in Waynesburg. What she witnessed on the auction floor is nothing short of astonishing.
As a self-described "horse rescuer," Urksa and her veterinarian frequent local and regional livestock auctions with hopes of finding horses that can be rehabilitated and re-homed.
"My friend and I had gone to see if there were going to be any horses there," Urksa says. "We had gotten there late, and this horse was already in the ring. We sat down, and the auctioneer started reading his papers. He read them off, but I wasn't paying attention to the name listed on the transfer papers. He said it was a 20-year-old registered Belgian stud."
"They started the bidding and there was actually a [kill buyer] bidding. Then, a guy sitting one person away from us started to bid. The bidding got up to $250, and the dealer dropped out because he wasn't going to make any money. When the [winning bidder] said his name, my friend looked at him and said, 'That was his horse.'"
Although Urksa wasn't sure what her friend meant at the time, it quickly became clear that the name of the winning bidder was the same name the auctioneer had announced earlier as the breeder of the stallion.
"He went running out of the auction to go pay for his horse," she says. "We caught up with him outside of the office, and he said he'd sold that horse as a yearling. We asked how he knew the horse would be here, and he said that he saw an ad in the paper that morning. No lie, the guy looked like a kid in a candy store."
"This horse was in great shape for being a 20-year-old stud. The guy was so thrilled. He ran off to get his truck and trailer and take his horse home. What are the odds of him seeing that ad in the paper and being able to be here and buy his horse back?"
After further investigating, Urksa believes the buyer was a representative of Orndorff Farm, a family of multi-generational Belgian breeders that have raised draft horses near Waynesburg since 1921.
"I looked up his name, and he actually has a lot of horses all over the country," she says. "Some of his studs stand in Canada, and his horses are very well-known. He said this was an old bloodline, and he wanted the horse to come back home."
The touching scene struck a very personal chord with Urksa whose own herd consists of several auction rescues including a pony, donkey, 13-year-old registered Quarter Horse, registered Paint Horse mare, 15-year-old Percheron, and a 2-year-old colt.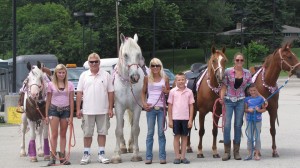 Members of the Urksa family. Image provided by Jen Ray Urksa.
"We have a pony and a donkey we got from the Eighty-Four Auction, and my daughter shows her registered Paint Horse that we rescued from the Camelot Auction in New Jersey," she says. "We also have a Percheron draft and a registered Quarter Horse from there. We also did a herd rescue a year ago this past summer, and we have a 2-year-colt from that."
"My daughter, Jessica, shows 'Dakota' in barrel, poles, and other gaming classes. We got her in January of 2011. 'Honey' is a 13-year-old Quarter Horse pasture pet. She was abused before I got her; there's no question about it. We've come along way. The Percheron is 15 years old, and just about anybody can ride him. He's the most phenomenal horse in the world. We call him Big Ted."
After frequenting livestock auctions for many years, Urksa has discovered that each horse has its own personal story. While many people might think that older horses in declining health make up the majority of horses that end up at auction, that's not always the case.
"The thing is that you don't know the reason [why they're up for auction]," she says. "I would assume my daughter's horse was at auction because she's a bad cribber. I'm one of those people who don't hold a horse's faults against them."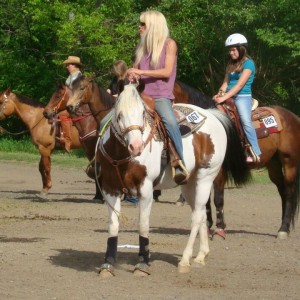 Jen Ray Urksa aboard her daughter's registered Paint Horse that was rescued from an auction. Photo courtesy of Jen Ray Urksa.
"Even with my mare, people asked why I was putting so much money into trying to figure out what was wrong with her, when I didn't pay anything for her. I did an EPM test, a spinal tap, and even cashed in my 401K. It's because I made a promise to her. When my horses come to me, I make a promise that they are safe."
Many thanks to Jen Ray Urksa for sharing this heartwarming story with our EquineChronicle.com readers.